Causes of tooth decay (dental caries) include the lack of proper dental care, genetics, eating habits, even aging. If caries is present in a small area only, a simple filling may be enough, but if the caries affects larger areas, dental prosthesis becomes necessary. Replacing teeth is important, because their deficiency can cause psychological problems, deterioration of chewing ability, and deformation of the face as well. Good news is that our dentistry in Nyíregyháza-Sóstó is prepared for all types of dental prostheses. Your prostheses are prepared according to the highest aesthetic requirements, we use materials like zirconium that exactly resemble the matter of real teeth. We make the necessary dentures with the latest CAD/CAM technology. This technology allows computer-designed and manufactured prostheses with micron (1/1000mm) accuracy! Thanks to CAD/CAM, your dental prostheses will be just like your original teeth, in color and size as well, all of these at a very favorable price. The prosthesis depends on the individual condition of each patient, the solution can be a crown for one, a bridge, an implant, or a removable prosthesis for the other. It is advisable to start the process of prosthesis as soon as possible, since a missing tooth affects chewing ability, may affect our private life for aesthetic reasons, and the missing tooth may cause the others to move away, which is a much more difficult task to restore. To find out what kind of prosthesis is the solution for you, visit our clinic to get FREE health check, consultation, and information about the possible solutions.
Crown
Crown is considered to be a permanent denture, which is made when the tooth is heavily damaged, the caries is large in size. To make the crown, we need to grind the tooth, then take a dental impression (imprint) for the crown, and our dental laboratory makes the dental piece based on the impression. The dental piece is fixed to the ground tooth by cementation. You have the opportunity to get complete porcelain crown in our dental office in Nyíregyháza. This crown is completely metal-free and meets the highest aesthetic requirements.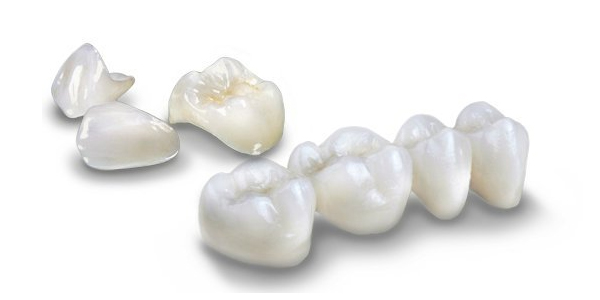 Zirconium Dioxide Crown
In our clinic, you can even request crown which made of zirconium dioxide (zircon). The zircon crown is a dental prosthesis which is completely free of metal and allergen, and it also meets the highest aesthetic requirements. We create the zircon crown with a computer to give it the most accurate size and thus comfort. The advantage of the zircon crown also lies in its high bending strength, which makes it possible to build a bridge of it as well. The zircon is just as translucent as a real tooth, so we prefer to use it in aesthetic dentistry.
Ceramo-Metallic Crown
The ceramo-metallic crown is a very common dental prosthesis due to its favorable price. In terms of its material, it is not completely ceramic, the porcelain material which has the same color as the teeth is bonded to the metal framework. Only this ceramic material is visible. It is considered to be a permanent prosthesis, though it is far behind the whole porcelain or the zircon crown aesthetically.
Implant Prosthesis
An implant can be used to replace a tooth perfectly. Before the implant appeared, the two teeth bounding the lacking teeth had to be ground, and the two ground teeth supported the prosthesis. With implantation, it is no longer necessary to grind two healthy teeth due to the lack of teeth: we introduce implants to the place of missing teeth on which we can fix the crowns.
Patient Opinions
Things Told About Us…
A fájdalom nem a kezelés része, a megalázás még annyira sem. Itt biztosan nem. Csak köszönni tudom, a megnyugtató légkört, a pozitív hozzáállást, a rendkívüli precizitást és szakmai felkészültséget, a sok mosolyt és biztatást!
Sokáig gondolkodtam hogy hogyan öntsem szavakba a tapasztalatomat amit átéltem a fogászati kezelések közben és után, de nem találtam a megfelelő szavakat, amelyek kifejeznék köszönetemet és hálámat amit érzek.
Good thing is that I did not feel anything from the whole procedure. The calm nature of the Doctor also reassured me in the dentist's chair. Additionally, filling and dental prostheses were needed,  now all is done. No one can tell which is natural and which is artificial
Magas fokú szakmai felkészültség, és pontos precíz munka jellemzi a Doktor Urat! Mosolygós, kedves,türelmes pácienseivel,és az asszisztensek is segítőkészek!
Tooth extraction, really without pain! That's what I call professionalism, Antal Sánta! I can recommend it to anyone! Everyone is very kind and natural! For me, it is an A-plus!
A legkedvesebb emberek dolgoznak ott, akikkel valaha találkoztam fogorvosi rendelőben. A munkájuk is első osztályú. Csak ajánlani tudom.